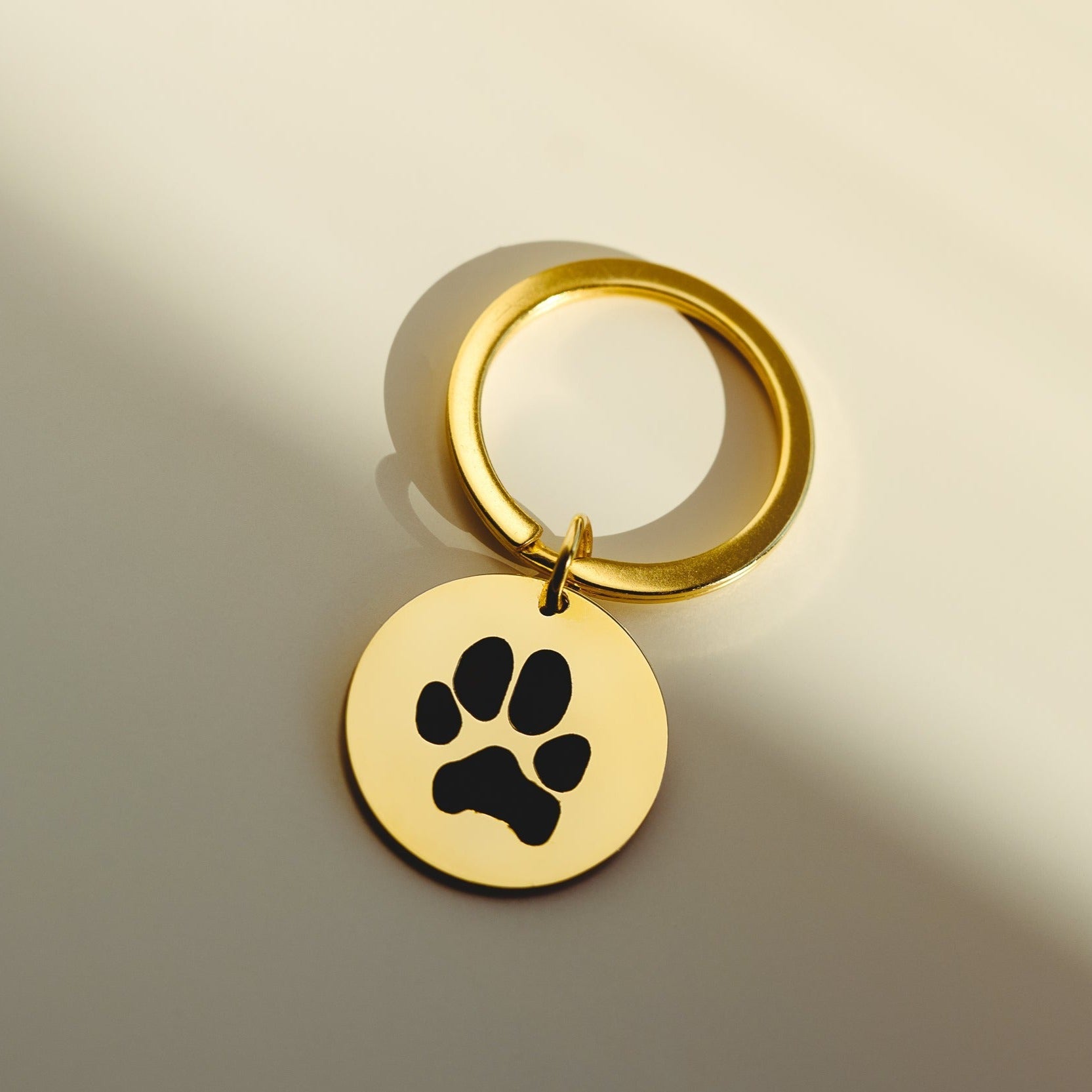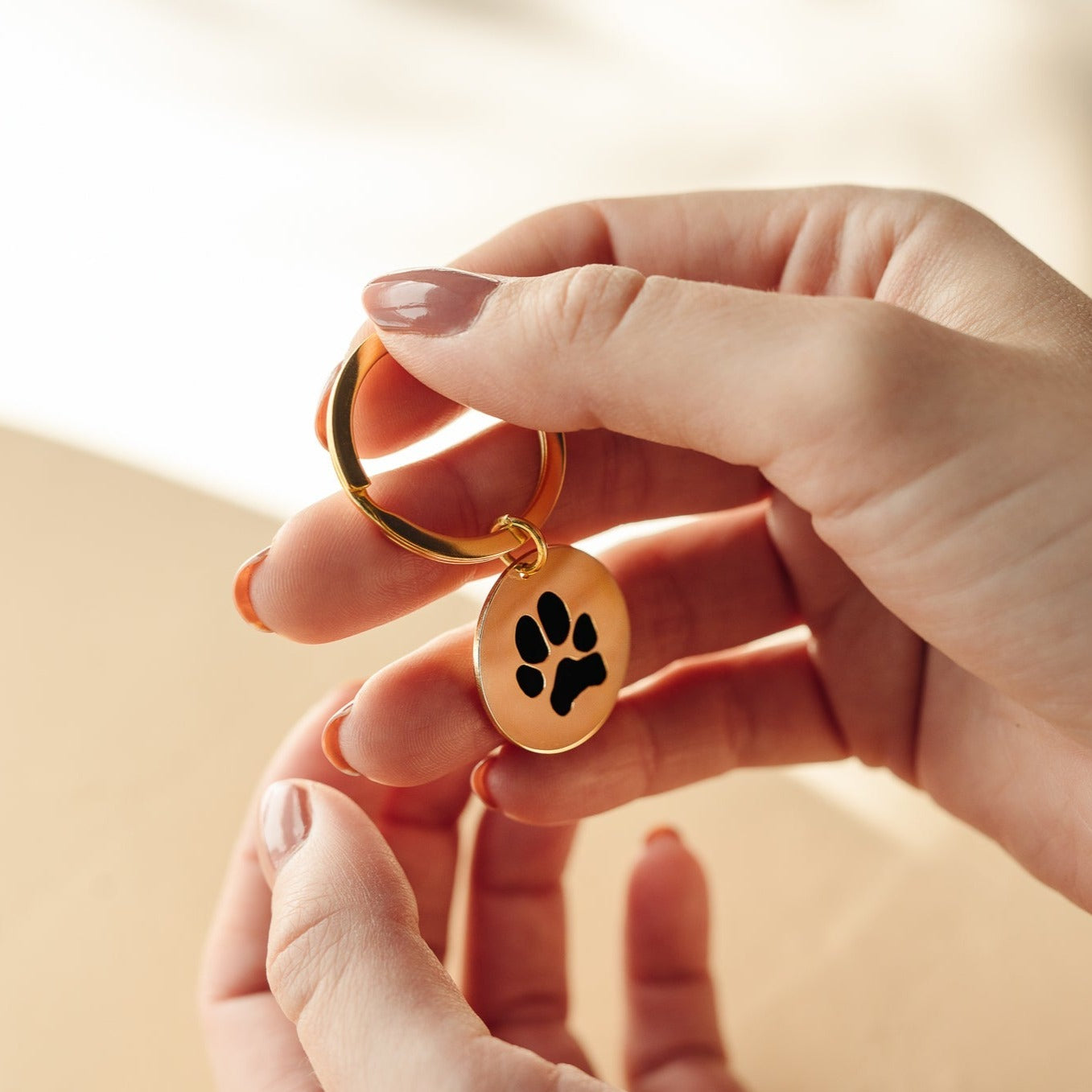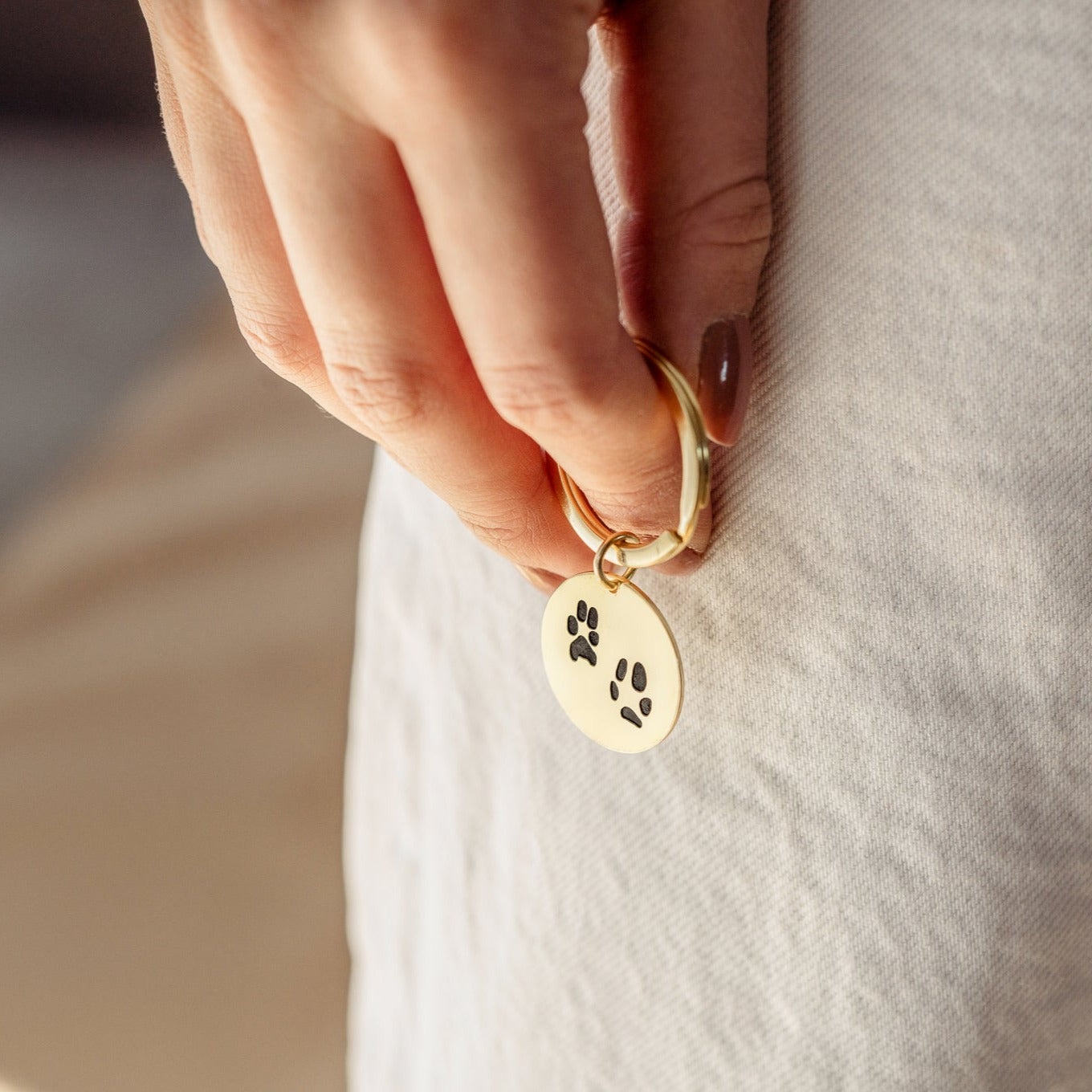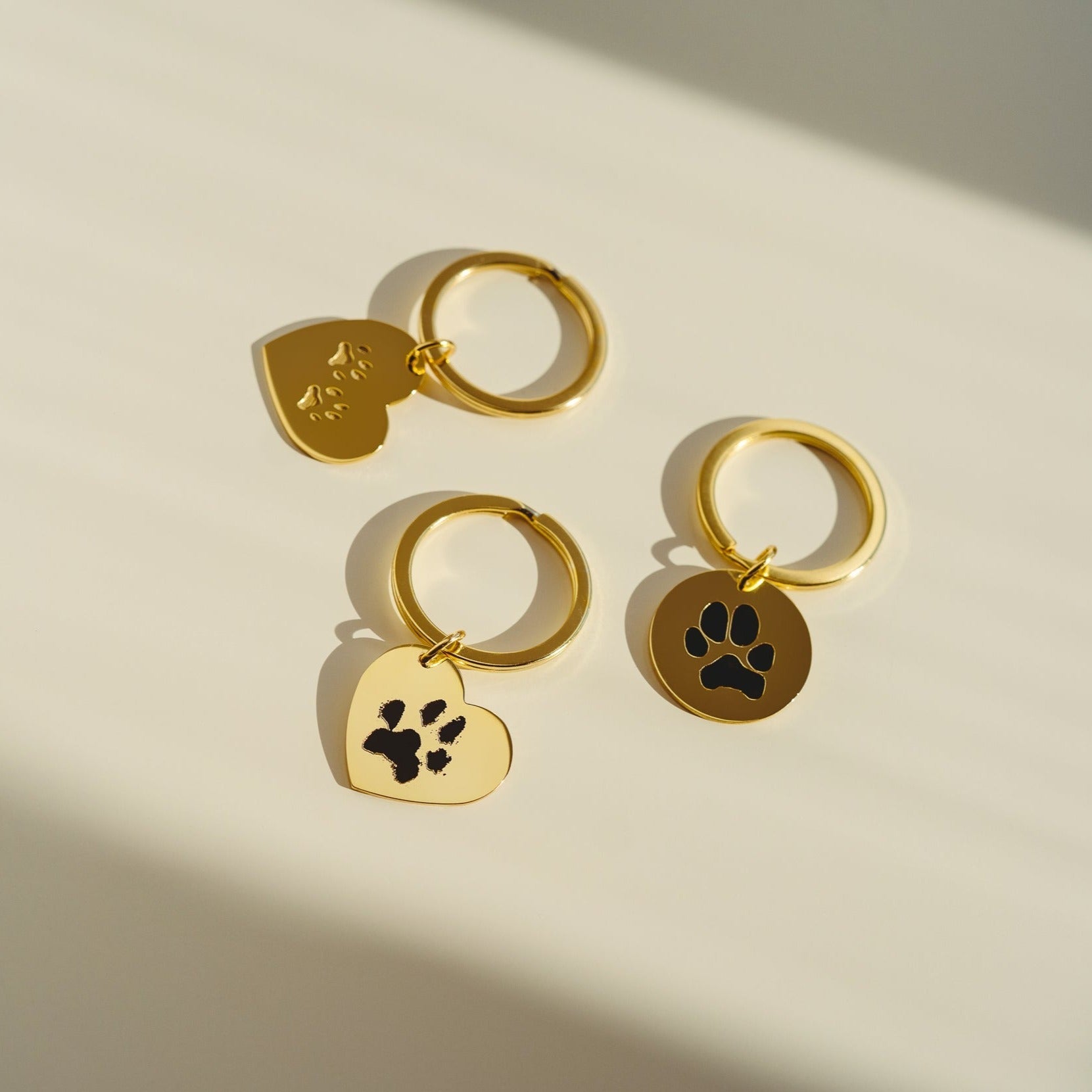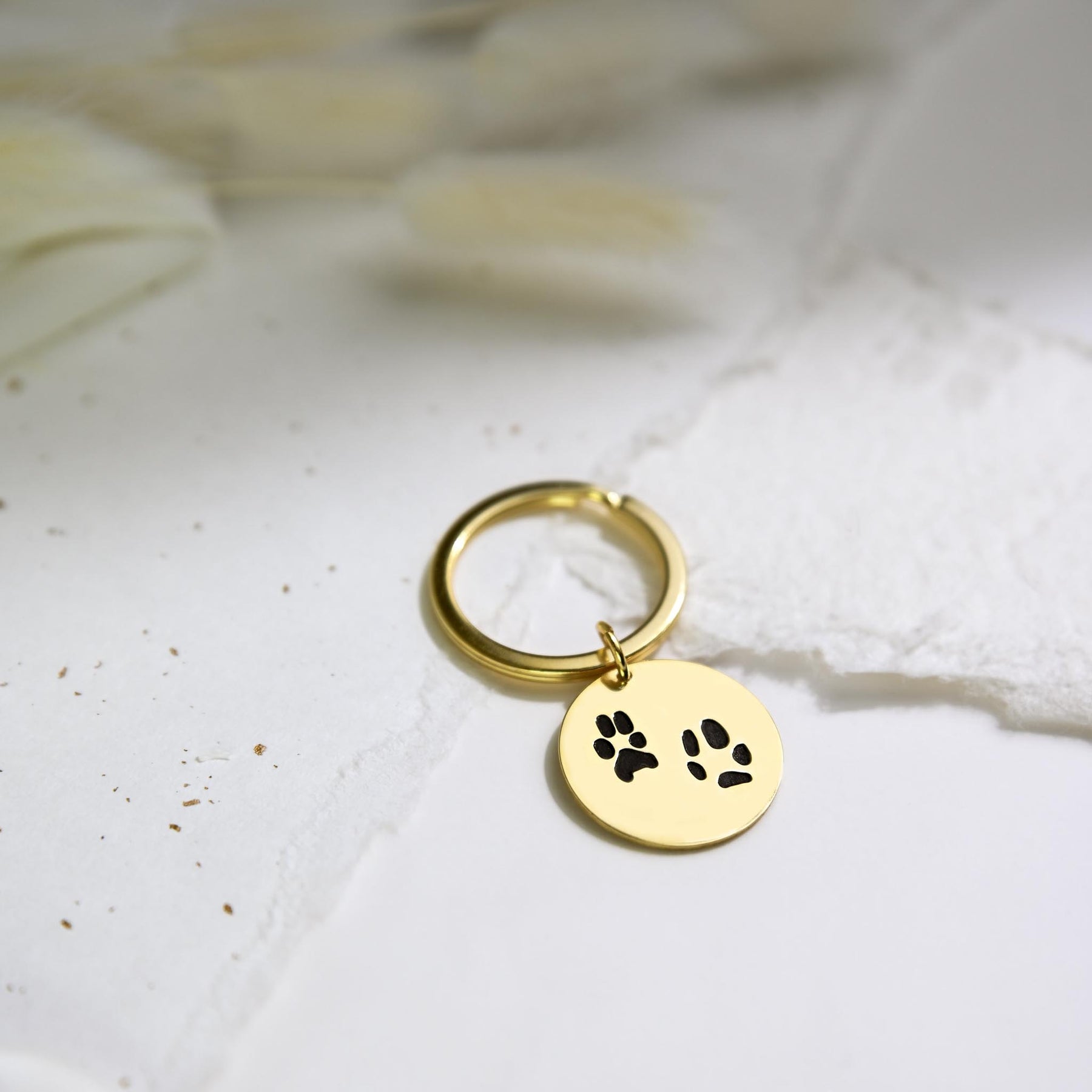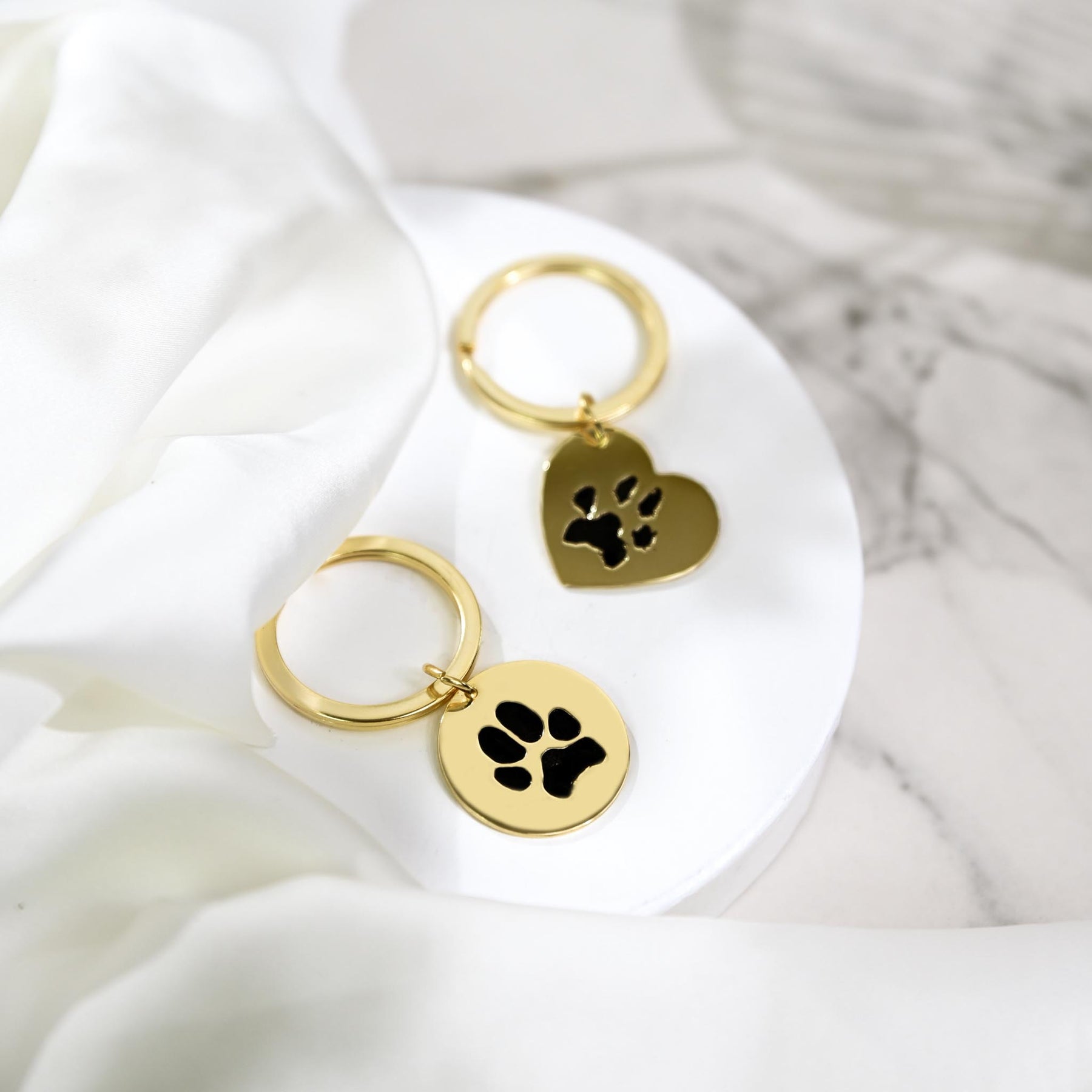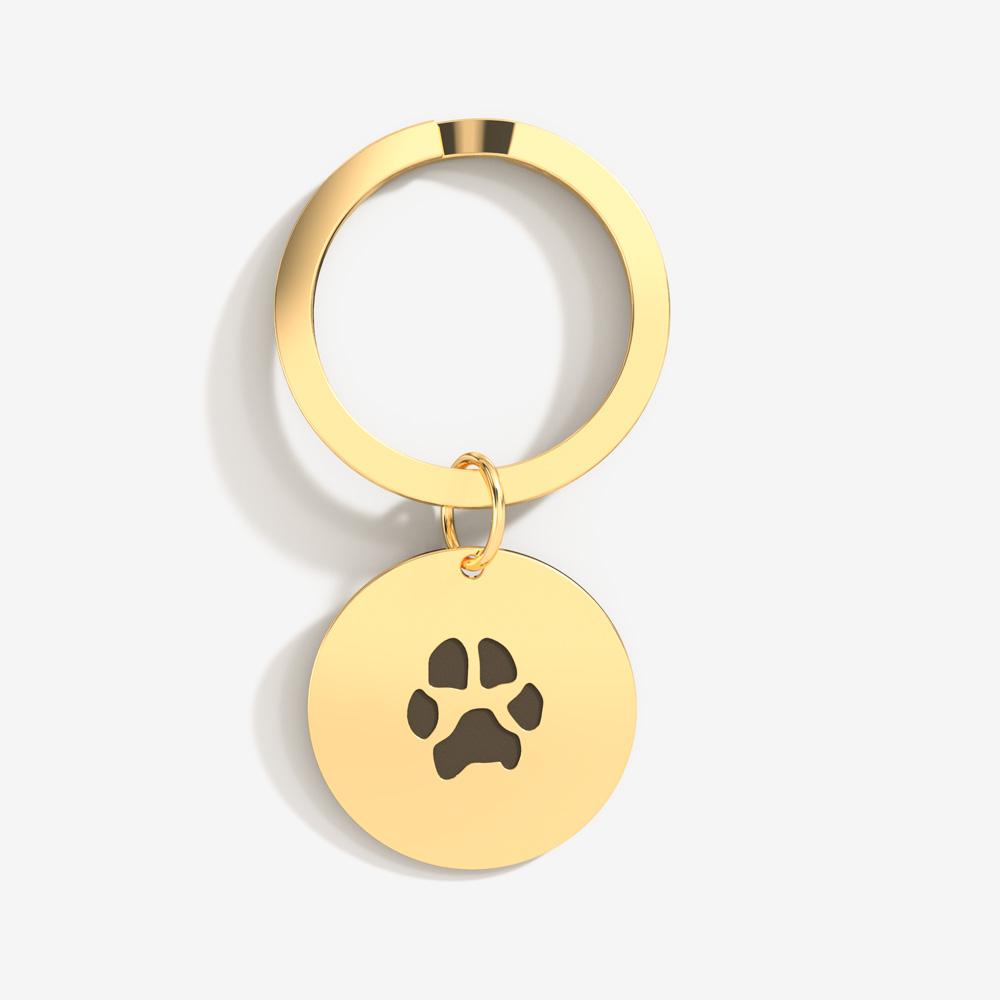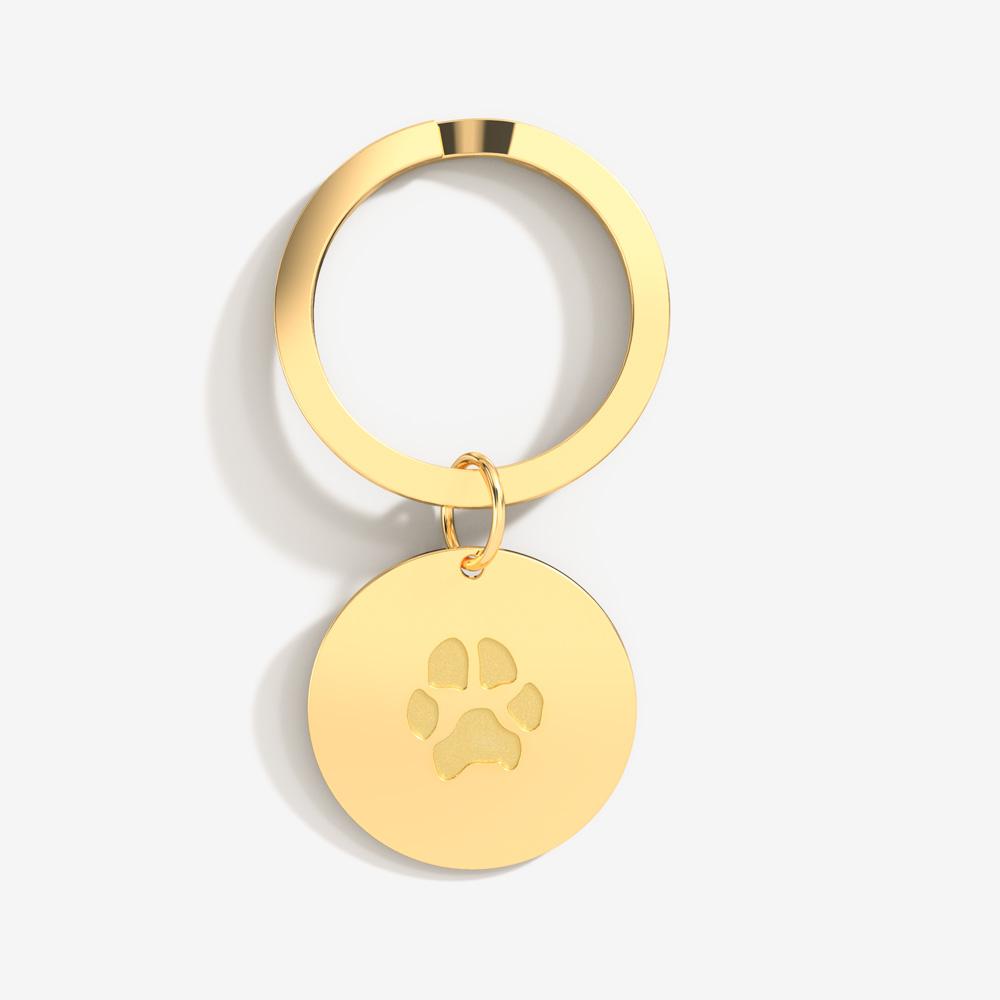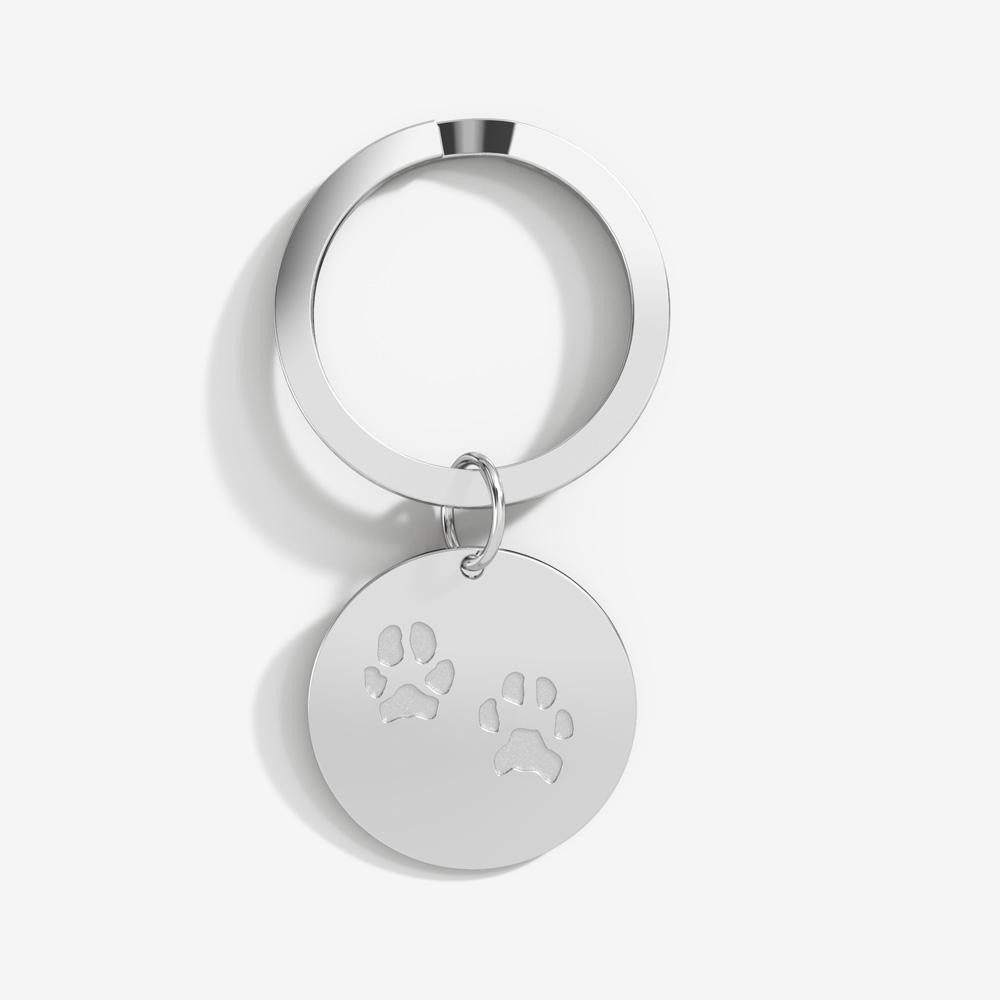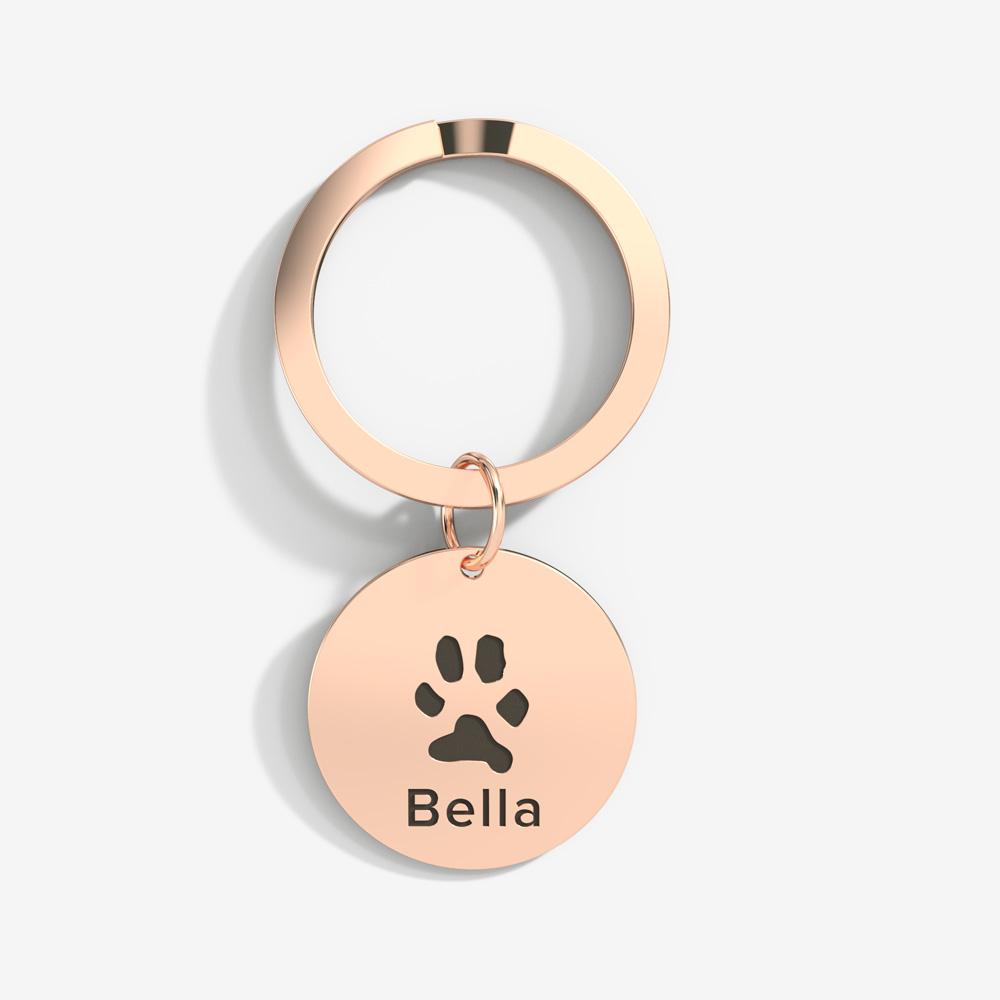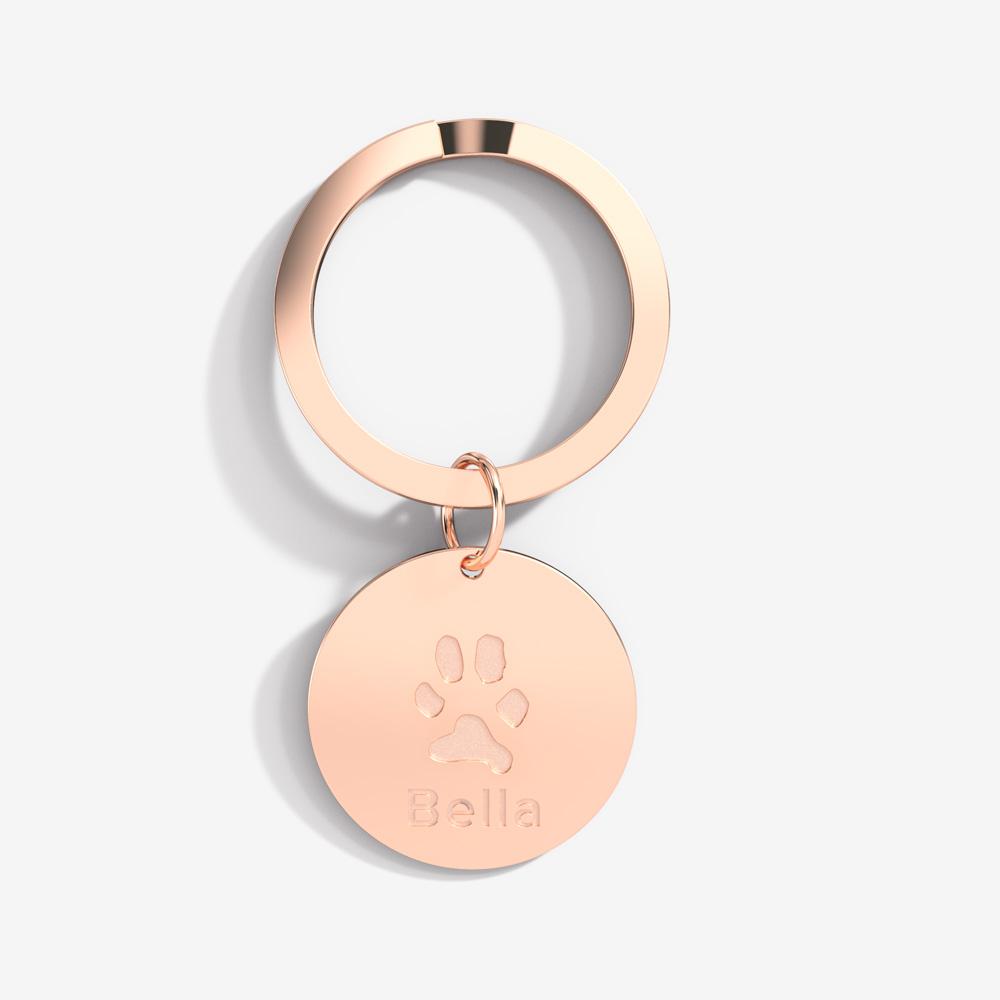 Custom Paw Keychain

Jewelry with your pet's actual paw print - a forever memory.

Our professional team of artists will engrave your pet's paw or nose print into a one-of-a-kind keepsake that will last you just as long as your memories.
Engraving: Both sides, fits up to 3 paw prints or names on each side

Height: 25mm / 1 inch
Sterling Silver
925 Sterling Silver is an alloy made of 92.5% pure Silver and 7.5% Copper. We plate our Silver jewelry in rhodium, which gives it extra shine and durability. Rhodium is one of the costliest precious metals due to its rarity. Water sensitive.
Vermeil
Not to be confused with regular gold plating, gold vermeil is a much thicker layer of gold which gives the pieces their long-lasting color. We use 18k gold that is a minimum of 2.5 microns thick layered over sterling silver. Water sensitive.
14K Solid Gold
Our 14k solid gold pieces are made to last forever. Since gold is one of the least reactive metals, it scratches less and doesn't wear out as easily. 14k gold will not oxidize or discolor, so you can wear your jewelry every day, everywhere.
We offer free worldwide shipping for orders over $75 USD, otherwise, the shipping fee is $4.95 USD.
| | | |
| --- | --- | --- |
| Shipping Method |  Production Time | Delivery |
| Standard Delivery | 8-10 working days | 7-12 working days* |
| Shipping Insurance** | 8-10 working days | 7-12 working days* |
| FedEx*** | 8-10 working days | 3-5 working days* |
*The estimated delivery times are "estimates" based on recent delivery times and are not seen as a guaranteed delivery timeframe. We do our best to ensure that the shipping process is as smooth as possible, but in case of a late delivery, we can't issue refunds as third-party delays (like USPS or Canada Post) are unfortunately out of our control.
**Shipping Insurance - We will cover all costs in case of lost or damaged packages, the delivery time is identical to standard delivery. Non-refundable.

*** FedEx Express and fees are non-refundable. Failed delivery due to wrong address requires respectively $14 USD and $ 7 USD re-shipping fee.
Production Time
Since all our products are handmade and customized on-demand, please allow 8-10 business days for your order to be dispatched from our workshop.

Once your order is shipped you will receive an email with your personal tracking code. If you have not received it, or have another problem, contact us at info@custompawjewelry.com
All our jewelry is handmade in our workshop in Asia.
Returns

We do not accept returns as all products are handmade and customized for every customer.
However, we understand that these pieces are very sentimental and important, so if you do have an issue with your product(s), please submit a Replacement Request.
24-Hours Cancellation/Modification Period
To cancel or change your order you must notify us within 24 hours from when the order was placed.  After 24-hours your order will be marked as a valid order and not available for cancellation due to the personalized nature of our product.

Please see our full Refund Policy here.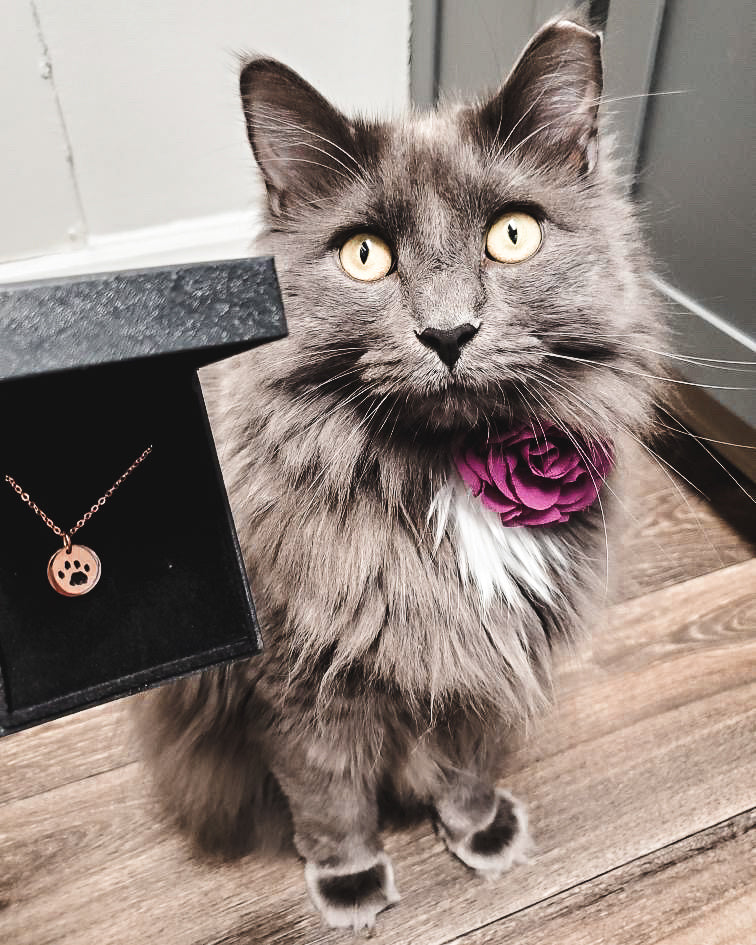 Elyse G.
It was super easy to transfer my picture of the paw I wanted on my jewelry to the website and it looks exact!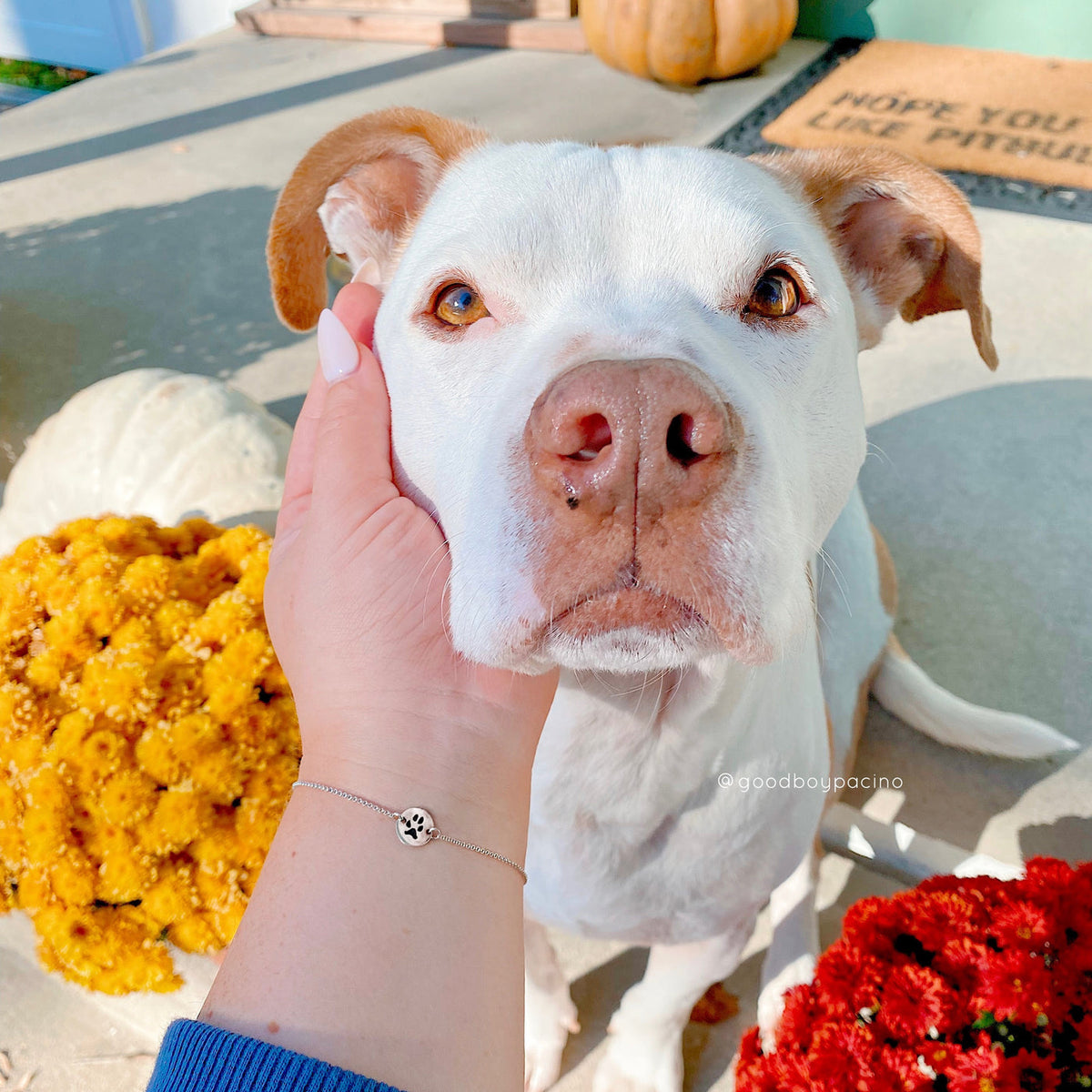 Lucy D.
It's so beautiful and perfect. Also it's a lovely way to always have your pet with you. I haven't taken it off since I got it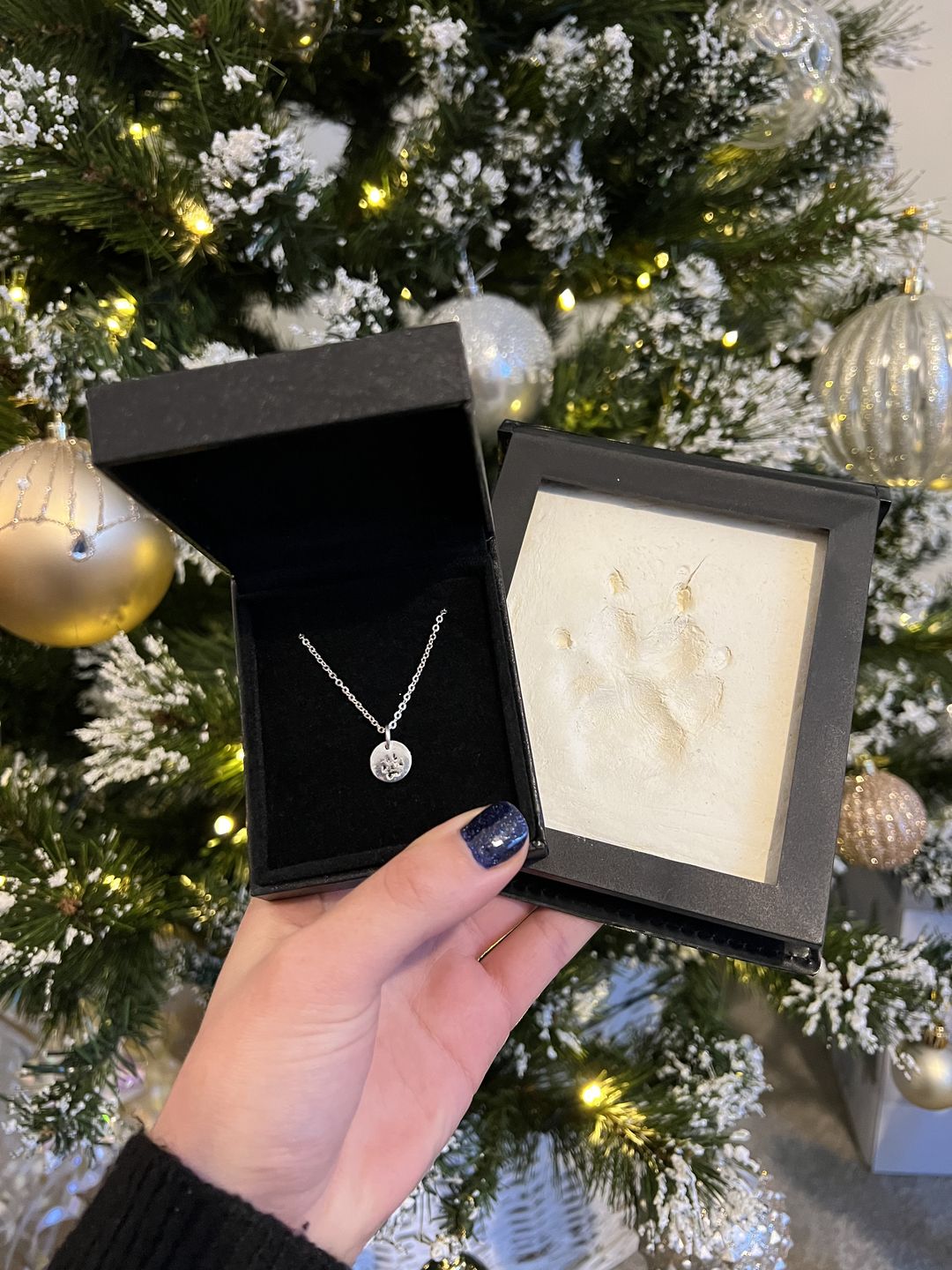 Claire F.
I absolutely love my necklace - my little boy Leo will always be close to my heart now ❤️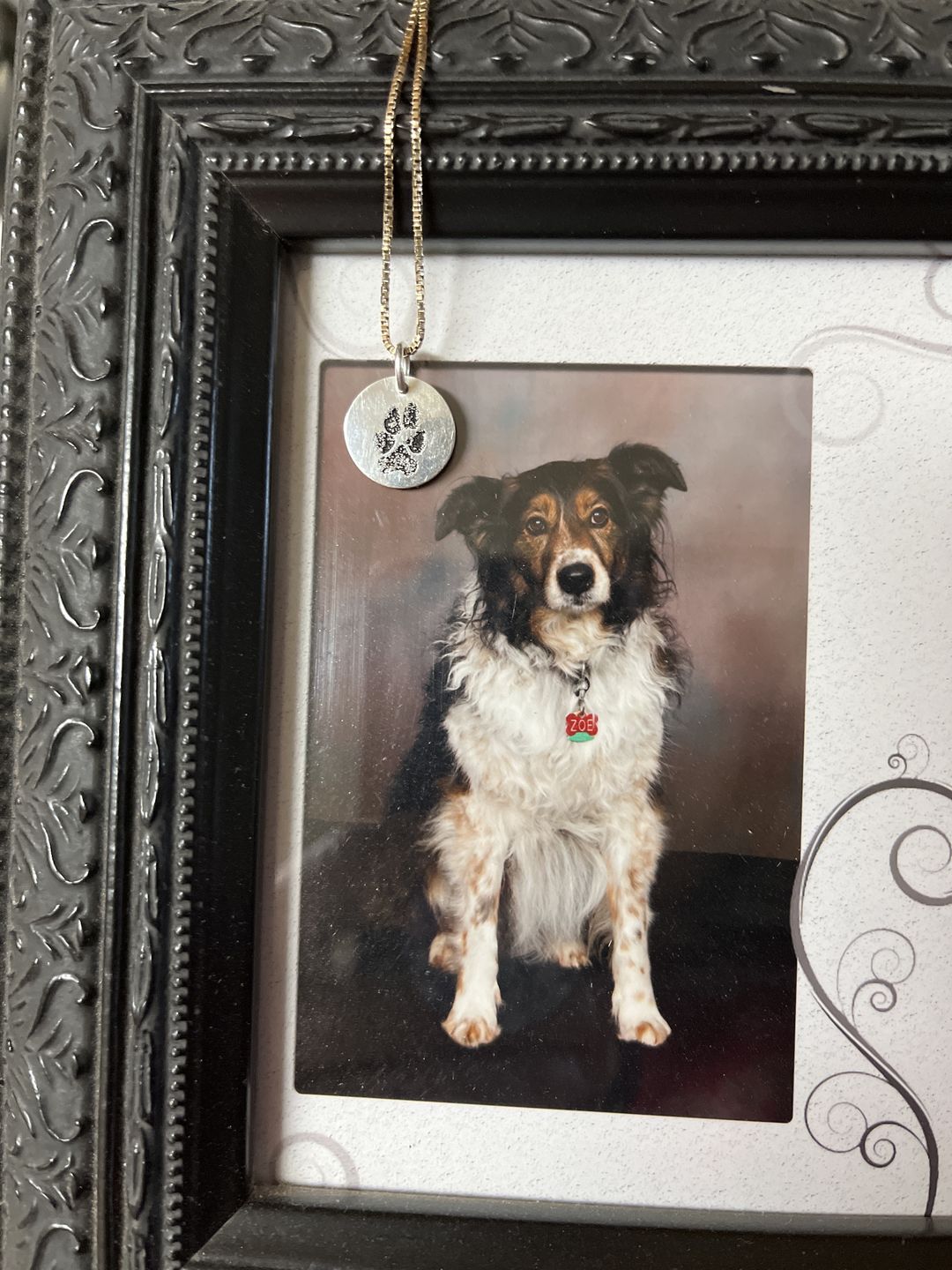 Julia L.
Thank you for allowing me to have my pup with me everywhere I go!
Diana R.
My whole world came crashing down in November when I lost my best friend and I wanted something to wear everyday so he was always with me.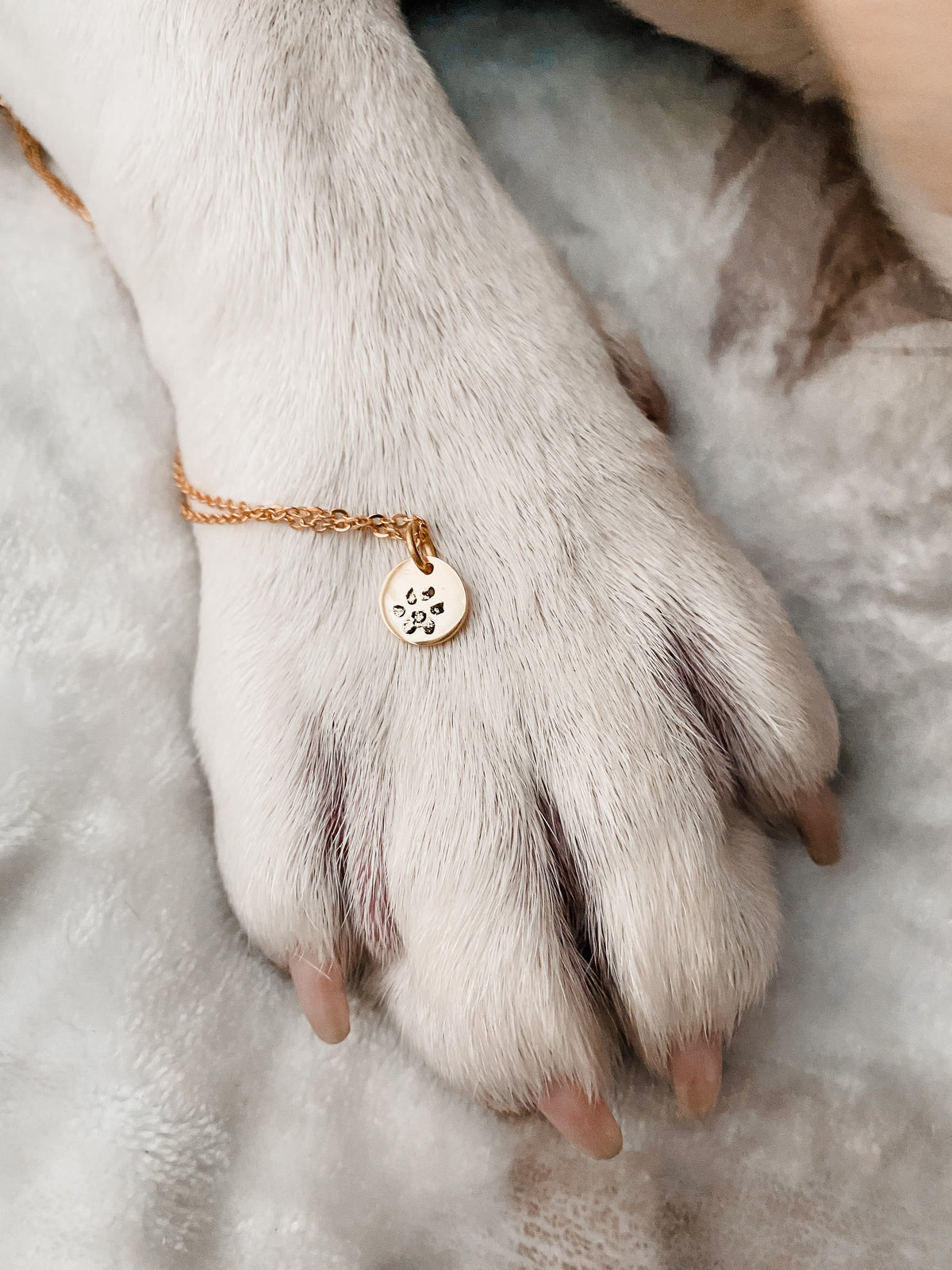 Jenni S.
I am so glad I ordered my custom paw necklace, it couldn't have been done better. I'm wearing mine every day, absolutely wonderful!
Ordering
Yes! Our artists use the photo that you send to create an unique piece with your pet's paw print.

You can check all our photo reviews here.
We accept photos of pet's actual paws, ink prints, clay prints, nose ink prints and photos of pet's nose.

You can check example photos here.
We can engrave all pet prints, including dogs, cats, rodents, turtles, horses, birds, pigs, hedgehogs, lizards and fish fins etc.
Yes, you can just send the photo to our email info@custompawjewelry.com. Please include your order number that starts with #.
Just make sure that all 5 paw pads are visible. Our professional artists will take care of the rest.
Shipping
Yes! We offer free standard delivery worldwide. FedEx Express delivery price depends on your exact location.
Delivery time = Production Time + Shipping Time

Production Time: Our jewelry is handmade on demand and takes 8-10 working days to be crafted

Shipping Time: The shipping time varies depending on the shipment method you choose. Free Standard Delivery takes 7-12 working days depending on your exact location, TNT Delivery takes 5-9 working days and FedEx 3-5 working days.

Please note that insurance does not make your shipping time faster.
Other
Check our full FAQ here.
If you have any other questions that aren't answered then feel free to reach out to us via our contact form.
Keychain
I lost my 21 yr old cat recently. My mom bought me a keychain so I would always have my baby with me.
Small but a huge meaning🐾
My coworker recently lost her cat very unexpectedly and I got her a keychain with his paw prints so she would always have them as a reminder. She loved the keychain and that it was something small but had a huge meaning
Eternal Memories
Family loved this gift. Our late dog will always be close to us with this jewelry
Absolutely perfect!
I got two key chains for my parents who have each lost their "heart" cat. They were over the moon and it was over all a very emotional and beautiful experience. The products are stunning and I will most definitely shop again ☺️